Lathe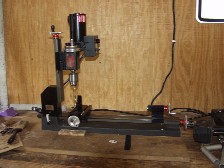 My first machine tool was a Sherline lathe
with a milling attachment. A fine jewel like
machine that was a great introduction to
machining. Sherline's support and FAQs are
second to none.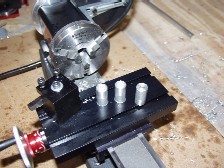 My first project was to machine new handles
for my Sherline to replace the plastic ones
you can see on the cross slide handwheel.
This would give me practice centre boring,
facing and cutting a taper.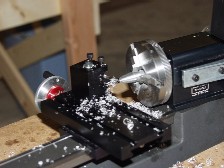 Here I'm cutting the taper for the new handle.
On the Sherline this is done by offsetting the
headstock to the angle desired.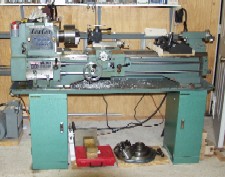 My full size lathe was a 1984 Luxcut 11x36.
I added a Aloris type tool post.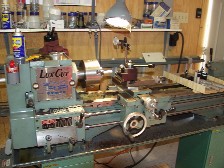 Parting off a small piece of round stock.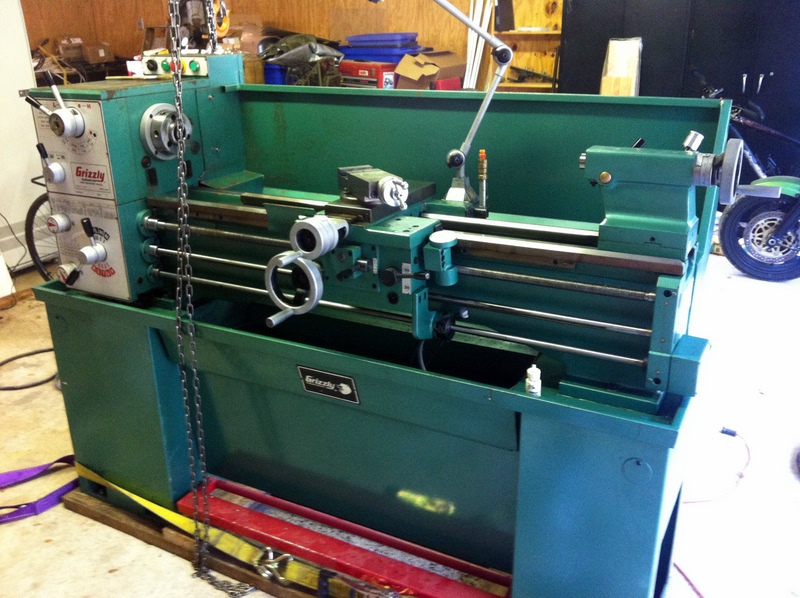 In 2007 I had to sell my 11x36 lathe. I've just replaced
with a Grizzly G9036 13x40 gearhead model. I'll add more
as I finish the installation and refurbishing.

Bridgeport Mill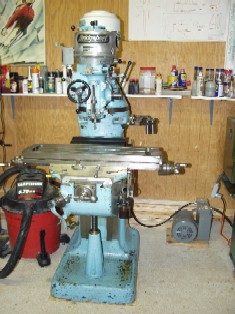 I found a 1947 Round Ram Bridgeport Mill
in a machine shop in Georgetown. It was in
excellent condition and the price was right!
Next to the mill on the floor is the rotary
phase converter, the mill needs 3 phase 220V
power. The converter takes the single phase
220V and makes it appear as 3 pase power to
the machine.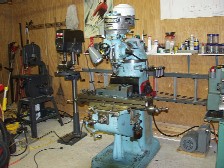 The mill all set up with a vise, clamps and
a selection of R8 collets.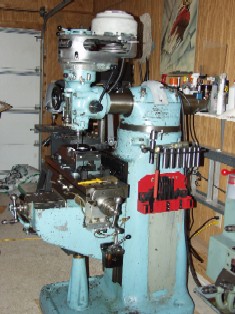 Here I'm finishing up a spacer plate for the
Bendix fuel injection manifold for my RV8.
A mill allows you to fabricate almost anything.

www.kumhyr.com

Email me your comments or suggestions.
Projects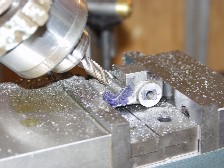 My first project was a dial indicator holder
for my large lathe. Here the mill head is set
over at 45° angle to cut the notch to fit
the lathe rail.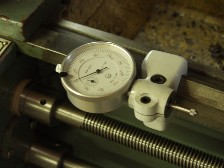 The finished dial indicator holder with an
indicator mounted.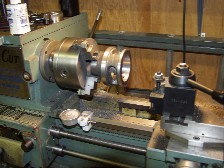 My large lathe had a threaded spindle and
wasn't easily adaptable to using collets. I
made a chuck for using them. Here I'm
boring the body of the chuck.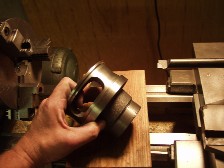 Finished boring the interior.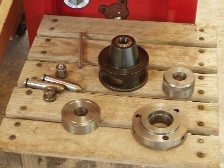 Almost done, all that is remaining to do is
to do the internal threading of the collet ring
and the spindle mounting.